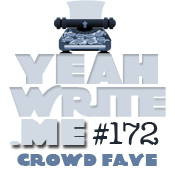 He hears voices and believes they know more about him than he knows about himself. Kids on the street call him "Cray-cray," too lazy and hip to pronounce the "z," and roll their eyes as he sits with his legs drawn up to his chest, rocking rhythmically to keep the voices still.
Kenneth enters this chattering inner world willingly. He carries a stick but to him it is a broad sword. He wears a baseball cap, backwards, but in his mind, it is a warrior's helmet. He fights dragons, the green trash bins that line his street on Tuesday mornings. He digs deep into their throats to find the treasures that dragons eat:  books, cereal boxes, newspapers.
It is my job as Kenneth's advocate to make sure he takes his meds but after the first couple of weeks of my assignment, I see the drugs make him miserable. I ignore the rules and let his mind go.
I go on adventures with him. I get my own long stick – a cane I picked up at the Goodwill store around the corner – and a Red Sox baseball hat that I wear backwards.
Kenneth is part-ninja, part-dragon-slayer. This involves a lot of kicking and stabbing at the air and yelling. I feel like a kid again. We run down alleys. We skip through the park. I am losing weight, having Kenneth in my care three days a week.
I try to get him to clean his apartment but he insists on keeping his towers of newspapers, rubbing his head and rocking a little, saying, "I need those. I need those." I convince him to bathe, arguing that dragons can sense us from blocks away without a shower every day. I also get him to the barber's, saying that knights of any decent order wear no facial hair, and show him a Prince Valiant comic strip as proof.
When Kenneth breaks his hand after punching a dumpster, (I try to stop him but he can't hear me), my supervisor appears at the ER, blistering mad, and fires me on the spot. I know I violated policy, joining Kenneth in his romping dragon slaying. I debate whether I should say goodbye and decide that it is the only honorable thing for a knight-in-training to do. I find Kenneth in bed, behind an ER curtain, subdued and monosyllabic, a cutting contrast to his high-strung but naturally amiable self.
"Kenneth, I have to go," I say. "I don't know if or when I'll see you again, but I wanted to thank you for teaching me courage."
"I didn't teach you anything you didn't already know," he says, flatly. Then he looks up at me, head tilted, "I want to go home."
"I know, pal," I say, feeling pressure behind my eyes as I try not to cry.
I turn and walk out, not looking back, past my former supervisor who stands with her arms folded, expecting a confrontation, I think. I keep walking out of the hospital, down the driveway, onto Route 4, kicking the air and an occasional trash bin or mailbox. I pretend my cane is a fencing saber, advancing and retreating and lunging as I slash at nothing, and a passing car of teens honks and yells, "Hey, you cray-cray!"
I walk four miles to get home. The house is dark and quiet, as it always is, but now it seems to swallow me. I try to imagine what part of me I discovered in the past three weeks that I could still keep. I try to figure out where I belong. Then I sleep.
*
Two years later, I have my own cleaning business. I have a contract with the state to clean its office building downtown and today I stop by to drop off some flowers to the office manager, as I do on the anniversary of every contract. Wearing my Red Sox cap backwards and my personalized cleaning uniform, Shining Armor company logo emblazoned on my back, I ride the elevator up to the 14th floor. Just as the door opens, I spy Kenneth, briefcase in hand, in a handsome blue-gray suit the color of a lazy, dark cloud, a white shirt, and navy blue tie. He has a beard, but it is neatly trimmed. His eyes are the color of chicory. I start to smile, nearly ready to give him a hug, but he holds the elevator door to let me pass, politely.
---
For this week's YeahWrite challenge.  Prompt:  What's the frequency, Kenneth?  Word count:  745