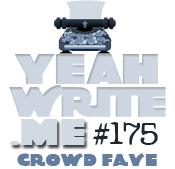 As dusk fell, the crickets tuned their song, swelling every few minutes into a crescendo that echoed off the bare kitchen walls and down the hallway to the bathroom where Colleen stood in front of the mirror practicing her smile. She found it hard to smile knowing that the crickets had burst out of the dry land, absent predatory bacteria that in wetter times would have kept their numbers in check, and now found themselves inside Colleen's kitchen with nothing to do.
It had been ten years since she had looked for a job, but tomorrow Colleen had an appointment with a temp agency in the city. She hoped that she would get through the interview without gasping. She worried about "the greens," those seawater-like, murky visions of the future that hovered over people's heads. She wasn't sure she could control her response to the clashing images, the impending weddings and deaths and accidents. It had been so long since she was around strangers.
"What are you doing?" Stanley asked, laughing as he spied Colleen pulling at the corners of her mouth.
"Practicing," she said. "I don't want to look shocked when I see the greens hanging over that woman's head. She's probably destined to have a heart attack or a stroke or something and I've gotta pretend that I don't see it."
"Well, pulling at the corners of your mouth isn't going to stop her from thinking you're loony." Stanley turned and started walking down the hall as the cricket crescendo peaked. "My god, those crickets. They're everywhere."
Colleen rubbed her eyes and looked at herself in the mirror. The wrinkles along her forehead were as deep as the cracked clay soil that was forcing her to look for a job, defeated by drought.
She remembered one autumn in her 20s, when she had walked two miles each morning and evening, to and from a clerical job on campus. It rained every day for months. Each day, she arrived at 9am, removing her heavy tennis shoes and the soaked socks, forcing her shriveled feet into dry black pumps. It had rained as if the sky were grieving some incalculable loss. It couldn't stop. It didn't stop until the Canadian cold fronts swept through and weighty tears had turned into snow. Colleen thought about how she hated that fall, how defeated she had felt each day, casting her socks over a heater under her desk. She had felt waifish and wet, like an unwanted cat.
Now the sere landscape scraped at her memory, begged her to apologize for all that fist-shaking at the rain.
She shook her head and turned to the fantasy that she and Stanley would be heroes.  She had spent most of her life denying her gift.  She had avoided meeting new people, their futures appearing to her in the greens before she even had a chance to learn their names. So often, those futures had been sad.  But Stanley was convinced that her gift could be a force for good.  Colleen wanted to believe Stanley.  It kept her from shrieking.
The next morning, Colleen put on her only suit and practiced her smile. "Fake it 'til you make it," she said aloud to the mirror. She kissed Stanley on the cheek, sidled carefully into the truck, and sang along to the radio while an errant cricket chirped the thirty miles to town.
Colleen walked confidently into the agency, keeping her sunglasses on until the last acceptable moment. The receptionist greeted her.  "Oh, yes, Colleen.  You have an appointment with Katy Welker.  Follow me."
Colleen followed the receptionist past the counter and back to the row of offices, the greens swishing above the young woman's head. Stepping into the office, a new flash of the greens struck Colleen; they now swirled above Katy Welker. Colleen could see rain, rain, rain, flooding rain.  She knew instantly that the vision was not a year away, not even months away. Glorious rain, she was certain, was days away. Of course, she also realized that Katy was in danger from some kind of flood, but my god, it was going to rain! She had work to do.
"You know what?" Colleen said, shaking Katy Welker's hand. "I gotta go. I'm so sorry. This was a mistake. Oh and please watch out for floodwaters – you know, when you're driving. Just stay away from underpasses."
Colleen turned around and walked out of the building, smiling. Rain. It was coming.