I dig and scrape the earth, and not with ease.
It is hard work, I tell you.  I have found silver
embedded in the striations of centuries. I touch
galena deposits of steely gray.  And then I touch
the limestone above the ore.  Imagine the ease
of a billion seashells sifting to the ocean floor, dying for silver.
All that death compressed into mineral for precious silver-
tongued poetry, extracted from lead. I touch
the striations and dig deeper. I do this, but not with ease.
Ease is the sliver of silver phrases I cannot touch.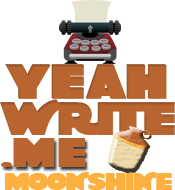 This is my submission in the yeah write editors' tritina challenge cooked up by Rowan at yeah write. To learn more about the format, check out this explanation.  My three words were:  ease, silver, touch.
Stealing Christine's blog blurb and links:
It's a yeah write poetry slam! Some of our editors and friends are on a tritina kick lately – in fact, some of us (*ahem*) have admitted that we may have a problem. Want to give one a try? Give us a shout at the coffeehouse and we'll give you three words. In the meantime, check out the other tritinas this week!